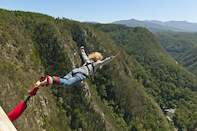 © Roger de la Harpe
For the ultimate in adrenalin pumping experiences, face your fears and jump off the Garden Route's Bloukrans Bridge in the World's highest bungee jump!
Attempt the World's Highest Bungee Jump
Experience one of the most amazing, adrenalin pumping experiences of a lifetime when you free fall from the world's highest bungee jump plummeting towards the Bloukrans River, 216 feet (709 metres) below you. With the air racing past your face you will feel more alive, more exhilarated than ever before.
Face Your Fears
Visitors looking for the 'ultimate thrill' are strapped to a full body harness and asked to walk across a specially designed catwalk at the bottom of the 451metre long bridge, with a central span of 272 metres, to the centre of the bridge. Once at the top of the arch, 216 feet above the river you are met by the friendly staff who give you your final instructions before counting you down; 1, 2, 3, BUNGEEEEEE!
Location
Located 38 kilometres (23.6 miles) from Plettenberg Bay on the N2, the Bloukrans Bungee Jump is one of the Garden Route's most popular adventure attractions with hundreds of excited visitors stopping at the bridge each year.
History of World Records
Face Adrenalin has been running the bungee jump at Bloukrans since 1990 and boasts a 100% safety record. A number of celebrities including Prince Harry and Kelly Slater have jumped from the bridge as well as local sportsmen such as Bobby Skinstad and Fanie De Villers and politicians including the Zuma family.
There have been a number of world records associated with the attraction including records for 19 jumps in 1 hour, held by Veronica Dean, and 101 jumps in 24 hours by Bill Boshoff and 107 jumps in 24 hours by Scott Huntley.
Open Daily
The bridge is open every day of the year from 09h00 to 17h00 daily and offers bungee jumping all day. Thrill seekers can simply arrive at the bridge to book their jump or can call in advance to book.
Address: BloukransBungy, Bloukrans Bridge, N2, Tsitsikamma, Garden Route.
Telephone: +27 (0)42 281 1458
Opening hours: Open daily from 09h00 to 17h00.