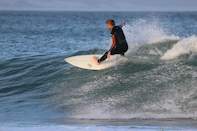 © Ann Gadd
With a relaxed and friendly atmosphere, the Eastern Cape's Jeffreys Bay is a surfer's mecca and is considered one of the top surfing locations in the world.
Jeffreys Bay, or J Bay as the locals call it, is a relaxed seaside town that is world renowned for its incredible surfing spots. Located in the Eastern Cape just 1 hours drive from Port Elizabeth, Jeffreys Bay is one of the fastest growing towns in South Africa and is considered the gateway to the popular tourist route; the Garden Route.
The town is situated along the warm Indian Ocean and warm water gently laps the soft sandy golden beaches all along the shore. One of the most pristine sun-bathing beaches is the magnificent Dolphin Beach, a beach that has been awarded Blue Flag status to mark its superior facilities and environmental protection procedures that have been put in place.
The Perfect Wave
The waves at Jeffreys Bay are usually sizeable, straight, long and hollow providing the perfect platform for beginner surfers to learn on while still presenting a challenge to even the most skilled and expert of wave riders. These perfect waves are attributed to a very long and fast right hand point break that occurs all along the west side of the bay.
Enthusiastic newbies and visitors to the town should take note that the locals do claim riding rites and it is important that a certain level of respect is afforded to those that live and surf in the area on a day to day basis. The most optimal time to visit the coastal town for surfing is between May and mid-September when off-shore winds provide the perfect conditions, producing 8 to 20 feet wave faces.
Where Those in the Know Go
The main surfing spot in J.Bay is the aptly named Supertubes. The constant swell and wave formation found at many of Jeffreys Bay's beaches produce the ideal 'tubes' that have resulted in Supertubes becoming the location for the annual Billabong Pro surfing contest that takes place every July.
Other popular spots, also frequented by the locals and visitors alike due to their 3m waves include Kitchen Window, Boneyards, Phantoms, Magnatubes and the Albatross.
These spots are usually identifiable to the collage of surf label stickers stuck to the road signs and electricity boxes in the nearby vicinity and the multitude of small dark spots bobbing up and down in the water at any and all times of the day.
Beginners Welcome
In response to the influx of visitors, a number of surf schools have been established in the area and are available to teach holidaymakers the skills required to ride the waves gracefully.