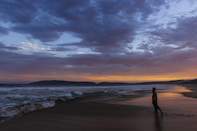 © Roger de la Harpe
With opportunities for polo, golf, sky diving and scuba diving in Plettenberg Bay, this Garden Route resort has attracted the jet set to its beautiful shores - add in malaria free safari activities and an airport for private flights and you have a winner!
Access
Plettenberg Bay is situated on the upper Garden Route between Knysna and the Tsitsikamma National Park. The town is mainly located between the N2 highway and the bay. Plettenberg Bay is about 6 hours by car from Cape Town and just over 2 hours by car from Port Elizabeth.
Airport
The main airport for the Garden Route is in George which can be reached in just over an hour by car. Plettenberg Bay airport is used for private air charters while George is connected by scheduled flights to major centres in South Africa.
Regions
This Garden Route town is built alongside a beautiful lagoon and surrounded by great natural beauty. This stretch of coastline encompasses the Robberg Nature Reserve and Peninsula, stunning beaches and the Keurbooms River Estuary.
You'll also find mountain scenery, fynbos (wild shrubs) and forests which contribute to a wide range of habitats for birdwatching. Plettenberg Bay includes communities in Harkerville, the Crags, Nature's Valley, Wittedrift, New Horizons, Kranshoek, KwaNokuthula and Keurbooms.
Highlights
Miles of beautiful beaches, safe swimming around the lagoon and an abundance of watersports are major attractions. The town unfolds in stages down towards the water and an attractive Riviera has been created.
Views over the bay and the ocean from these heights are wonderful and much sought after when it comes to choosing accommodation. The Robberg Nature Reserve with its rocky peninsula offers coastal walks, a tidal swimming pool and a long sandy beach as well as Stone Age caves and a brilliant functioning lighthouse.
For riverside fun you can't beat the Keurbooms Nature Reserve which has tranquil waterways, secret beaches and lovely picnic spots. Of course there is also the lush forest for that romantic getaway you've been dreaming about!
Activities
Ocean activities - There is a PADI Dive Centre for scuba diving with a variety of courses, surfing, sailing and sea kayaking, water skiing, boating, sea safaris and fishing, swimming in the sea and in the lagoon, Whale watching in the winter months and Dolphin spotting all year
River activities - Ferry cruise, angling, 2 day Keurbooms Canoe Trail and boating
Kids adventure - Kids will love the supertubes, trampolines, mini-golf and play zones at 2 adventure water parks in the area or there is the brilliant 3D Puzzle Park (a first in south Africa)
Golf & polo - Golfing on 2 manicured 18 hole courses and year round polo at the Crags
Wildlife - Birds of Eden and Monkeyland for the world's biggest single-span aviary and viewing free ranging primates; the Elephant Sanctuary for touching, feeding and riding Elephants or walking trunk-in-hand; Radical Raptors for viewing magnificent birds of prey; Tenikwa Wildlife Centre for wonderful encounters with big and small wild cats, you can even go on a Cheetah walk; Swimming with Seals at Robberg - the kids love it; game viewing and safaris where you can see Lion, Rhino, Leopard and Buffalo; excellent birding opportunities because of the range of habitats
Hiking & biking - Bike through the exciting Harkerville Forest or choose from a range of interesting hikes, there are 5 great short hikes locally and another 3 further up the coast with mixed distances
History & culture - Visit Matjes River Caves and Nelsons Bay to view ancient Khoisan relics; sample Cape Malay cuisine in New Horizons; investigate Xhosa culture and traditional medicine at KwaNokuthula
Nightlife & dining - Plettenberg Bay is a hotspot for night clubs, pubs and dining in great restaurants which overlook the water
Adventure - Set off on a horseback adventure or go bungi jumping from the world's highest site, take to the air on scenic flights or go sky diving
Speciality - Head for the daily market in town, or the Saturday market in Harkerville and stock up on everything fresh and tasty or take a tour of the local distillery where you can sample fruit liqueurs called mampoer. Art and craft lovers will find galleries and outlets plus designers for original pieces. There is also the Cruise the Crags Route for more crafty offerings. The Barnyard Theatre is the place to go for live music shows and entertainment
Climate
Plettenberg Bay has a Mediterranean Maritime climate with sunny and pleasant summers and mild, wet winters. The town is popular for year round breaks and holidays.
The Experience
Plettenberg Bay has a modern resort atmosphere with a strong beach and watersport culture. As the town has grown, classy estates have come to the fore as well as stunning retreats in lush forest settings. Plett is unique in that you can combine scuba diving, sky diving, golf, polo and a malaria free safari while on holiday in a nature lover's paradise.
Luxurious homes, guest houses and hotels offer superb locations for the discerning traveller, and together with the high end sporting facilities plus an airport for private charters, it is no wonder that Plettenberg Bay has gained a reputation for being a playground for the rich and famous.
The balmy year round climate also contributes to the appeal. It is worth remembering that Plett has always been popular and that many families have been coming regularly for self-catering holidays and relaxed fun in the sun, so there is room for everybody. In November / December ever year Plett Rage takes centre stage. It's a massive student festival with an amazing line-up of the best local bands and top DJ's.
What You Need to Know
Plettenberg Bay hosts a number of events including the following: Plett Rage (Student Festival) in November, the Festival of Lights in November, Sabrina Love Ocean Challenge in December, the Plett Open Golf Tournament in March.
Plettenberg Bay Accommodation
Here is a great selection of Plettenberg Bay Hotels