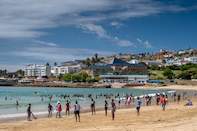 © Chris Daly
Santos Beach in Mossel Bay.
Mossel Bay on the Garden Route is a great beach holiday destination with superb year-round attractions. It can be reached on a short flight or a 4 hour drive from Cape Town and Port Elizabeth.
Access
Mossel Bay in the Western Cape is located halfway between Cape Town and Port Elizabeth along a beautiful stretch of coastline known as the Garden Route. The main highway between these 2 cities is the N2 and it is about a 4 hour drive in either direction from Mossel Bay.
There is something for everyone in Mossel Bay. The town caters for all interests and ages with great beach and watersport activities, golf courses, hiking and biking trails and adventure sports. You can also enjoy wildlife encounters and safari activities on game drives and horse trails. Whale watching is possible in the second half of the year.
History, culture, art, craft and delicious seafood can all be savoured here. Mossel Bay is a well established town with great amenities such as restaurants, shops and malls plus entertainment facilities which include cinemas, theatres and a casino.
Activities
There is so much to do in Mossel Bay, here is an overview:
History & culture - Historic buildings, The Post Office Tree plus Braille Trail and 7 museums in the Dias complex alone as well as others in the area, Stone Age Caves, the Cape St. Blaize Lighthouse; the Township Tour, art galleries, art and craft
Beaches & watersports - 4 sandy beaches and a complex with a supertube and adventure golf; sailing, surfing, scuba diving, boating, cruising, jet boating and skiing, kayaking, fishing and more
Hiking & biking - The Oystercatcher Trail (slack packing), Hunter Gatherer Trail, Cape St. Blaize coastal trails, Ruiterbos forest trail, Koumashoek fynbos trail
Adventure - Bungi jumping at Gouritz Bridge, shark-cage diving, abseiling, sky-diving, scenic flights, 4x4 and quad biking trails
Golf - Enjoy spectacular views from 2 championship courses (18-holes ) overlooking the ocean and surroundings plus many other excellent fairways nearby
Safaris & wildlife - Malaria-free game drives, bush walks and horse safaris; Elephant- back rides, Lion walks, Jukani Wildlife Sanctuary, Whale watching from about June to October
Climate
Mossel Bay enjoys at least 300 days of sunshine every year with summer rains falling mostly at night (September to April). Its mild climate in the winter months (May to August) makes this Garden Route town a great escape from the cold and wet weather elsewhere. Mossel Bay even made the Guinness Book of Records in 1992 for having the next best climate in terms of mildness after a small town in Hawaii.
The Experience
Mossel Bay is big enough to have quality facilities but small enough to still be a great holiday destination away from the hustle and bustle of bigger cities. There is something different to do every day and when you need to take a break there is always the beach, wine tasting and delicious seafood meals to enjoy.
Mossel Bay is famous for its balmy days, watersports and historic attractions. The Dias Museum complex features a comprehensive display of local history, maritime events, culture, flora, shells, marine life and much more. The Post Office Tree is an ancient Milkwood tree and is so called because explorers in the 1500's used to leave messages in the tree - you can post a letter or card from here with a special stamp.
Another top attraction is the Oystercatcher Trail which is a wonderful guided 5 day hike between Mossel Bay and the Gouritz River - your luggage is transferred for you and accommodation along the way is in quality Garden Route guest houses. An alternative is the 4 day Hunter Gatherer Beachcomber Hike.
What You Need to Know
Festivals that you can attend include the Proe Mosselbaai food Indaba at the end of February going into March, and the annual Sports Festival held towards the end of September.
Mossel Bay Accommodation
The Protea Hotel Mossel Bay is situated within the Dias Museum complex and overlooks the main beach and harbour. The Point Hotel is located next to the active lighthouse on the rocks and overlooks a safe tidal pool.