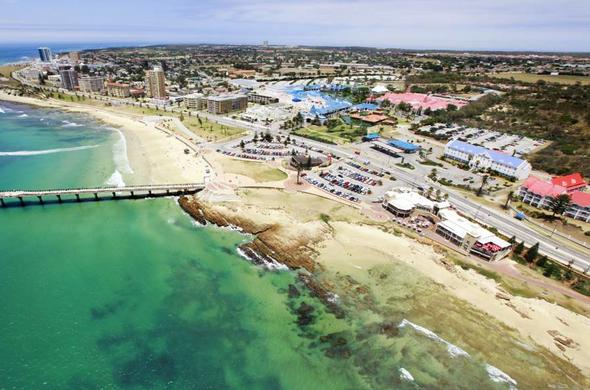 Combine top attractions in one holiday and visit Port Elizabeth - the Friendly City. Beaches, watersports, malaria free Big Five safaris and the Garden Route, you can experience them all here.
Access
Port Elizabeth is connected to other major centres by road, sea, air and rail. The city has an important harbour and a busy airport. The railway system connects the harbour to major farmlands and inland towns and carries both freight and passenger traffic. The N2 highway links PE to the Garden Route in the south and also to Settler Country in the north, and intersects various tourism routes that surround Port Elizabeth.
Airport
Port Elizabeth Airport is a hub for flights to other major centres in South Africa and for onward international connections. The airport complex is centrally situated which makes it easy to access from all parts of the city.
Regions
Nelson Mandela Bay incorporates Port Elizabeth, Uitenhage, Despatch and Colchester. Port Elizabeth or the "Friendly City" is situated alongside Algoa Bay and has at least 40km (25 miles) of coastline, it's known as the Watersport Capital and also the Mohair Capital. PE is a hub for international vehicle manufacturing companies.
Port Elizabeth has a great waterfront (Blue Flag beaches), a university (Nelson Mandela Metropolitan University or NMMU) and historic architecture with different styles, bustling townships and a rich array of natural environments. It is surrounded by major farmlands and game reserves.
Highlights
Port Elizabeth is busy becoming a major tourist hub and has a lot to offer. It is exceptional in that you can combine the delights of the Garden Route with malaria free Big Five game viewing and a traditional bucket and spade holiday. You won't spend hours transiting airports and driving long distances to experience all of these top attractions in one vacation, so it's perfect for families.
Port Elizabeth is a superb mix of the old and the new. If you are keen to get out and about you can enjoy lots of interesting and different activities - go scuba diving, visit the innovative Red Location Museum, experience Township Culture or set off on an authentic Ghost Tour. Don't forget to take your seat in the iconic and atmospheric Nelson Mandela Bay Stadium and explore St. Georges Park.
Activities
Port Elizabeth is alive with possibilities with something for everyone.
Beaches - Enjoy all the best things about a beach holiday in PE, golden sands, lifesavers and interesting rock pools. Plenty of space and great facilities including supertubes for the kids
Water activities - Sailing, board sailing, surfing, wind surfing, kite surfing, scuba diving (reefs and shipwrecks, 30m visibility), snorkelling, fishing and canoeing to name a few. There are also deep sea adventures and boat excursions to see Dolphins, Seals anytime and Southern Right Whales between July and December. For something different try the Sundays River Ferry and see the highest sand dunes south of Namibia
Tours - Township tours for heritage and culture plus a trip to the local shebeen (pub), ghost tours around Central Hill, walking tours in the city, specialist guided tours, wildlife and nature tours
History and art - The Campanile tower, St Georges Park, No7 Castle Hill, the Donkin Reserve, Shark Rock Pier, Victorian Pearson Conservatory, Art Deco buildings and more. The Art Journey is a route through the city which showcases art, culture and heritage in an innovative way
Land activities - Quad biking, paint balling, horse riding, walking, hiking and biking. Golfers can enjoy rounds at Port Elizabeth Golf Club (18 hole parkland), Humewood Golf Club (18 hole links) and Walmer Golf Club (18 hole parkland)
Family fun - Bayworld which features the PE Museum, Oceanarium and Snake Park; Open Sky Entertainment Park for challenging 18 hole putt-putt, paintball, touch farm, trampolines, play area, jungle gym, pony rides; Science and Technology Centre in Uitenhage - fun for all ages
The Boardwalk - Casino and Entertainment World set amongst lakes and gardens boasting a cinema, shopping and dining options, a kids games arcade and a craft workshop
Wildlife - Daniell Cheetah Project, SA Marine Rehabilitation & Education Centre, Boma Reptile World, Seaview Predator Park, the Oceanarium and Snake Park at Bayworld
Safari activities - Enjoy malaria free safaris and Big Five game viewing. Visit Addo Elephant National Park, Kwantu Rehabilitation Centre and Elephant Sanctuary plus a huge selection of game reserves and game parks within a 1 hour radius of the city offering game drives, bush walks and Elephant interaction
Nature - Port Elizabeth has a number of reserves and beautiful parks in and around the city. Explore 5 biomes and the associated flora and fauna including an excellent array of birdlife on the Outward Bound Route which is an eco-adventure and sports trail. Nature reserves featured are Aloes, Van der Kemps, Van Stadens, Swartkops and Cape Recife
Trips - These include the Sundays River Valley, Sunshine Coast, Frontier Country as well as the Karoo Heartland Routes, Route 62 and the Garden Route
Climate
Port Elizabeth has a balanced climate which encourages opportunities for an excellent quality of life for residents. Warm summers with comfortable humidity levels and mild winters plus warm Indian Ocean waters mean watersport activities all year round, especially sailing due to the fresh sea breezes. Rainfall is spread throughout the year.
The Experience
The Friendly City is a leisure, business and sporting hub with an array of attractions and facilities to match. Enjoy miles of clean beaches, loads of watersports and an appealing waterfront. Spot the Big 7 (Elephant, Lion, Rhino, Buffalo, Leopard, Humpback Whale and Great White Shark) in the Addo Elephant National Park or go on an eco trail.
Every country has a number of biomes (specific natural environments), South Africa has 7 altogether and 5 of these can be found in Port Elizabeth, which is an unusual feature for any city in the world. The city embraces and celebrates its historic and cultural heritage.
Discover a route called the Art Journey or take the Donkin Heritage Trail to 51 sites of interest. PE has the largest collection of Art Deco buildings in South Africa plus great examples of Victorian and Art Nouveau styles.
Port Elizabeth is affordable, easy to get to and has an excellent infrastructure. It's quick to navigate with very little traffic congestion. Until recently you used to be able to get everywhere within 10 minutes - that has changed somewhat now due to the pace of growth currently being experienced. So now you can get most places in 15 or 20 minutes!
What You Need to Know
Top local events include:
The Herald Cycle Tour in February; Redhouse River Mile for the oldest open water swim event in February; Splash Festival in March / April; Ironman South Africa in April; Ocean Racing Series (Africa's largest beach event) offers various events over the summer season from November to April every year.
Port Elizabeth Accommodation
Choose from a range of Port Elizabeth Hotels