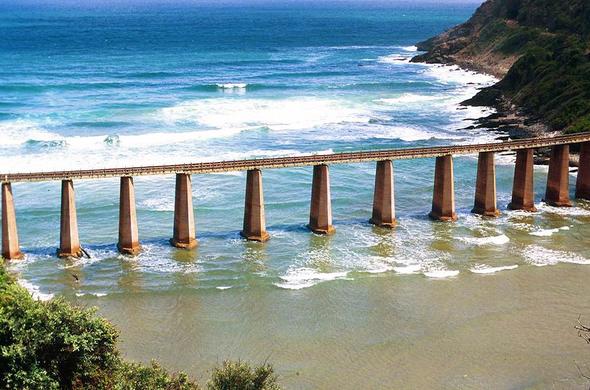 Visit Wilderness on the Garden Route for beautiful beaches and stunning scenery. Enjoy watersports, hiking, biking and birding in an area that is famous for its natural beauty.
Access:
Wilderness on the Garden route is easily accessible by road as the N2 highway passes right through the village via a steep pass near the Kaaimans River. Cape Town is between 4 and 5 hours drive going south and Port Elizabeth is a 4 hour drive going north. The nearest major town is George, alternately Sedgefield, which is further up the N2, is another beach resort with facilities.
Regions:
Wilderness is located in the southern section of the Garden Route National Park. It has a very scenic setting overlooking the Indian Ocean with a rugged mountainous background. On one side you have the Kaaimans River Gorge, a handsome railway bridge and Dolphin Point and on the other end you have Goukamma Nature Reserve.
In between is a magnificent coastline characterised by lagoons, estuaries, lakes and forest. Wilderness has a small village centre which is surrounded by holiday homes and guest houses, hotels and resorts. There are no high rise buildings.
Airport:
George Airport is the main airport on the Garden Route and receives flights from all major centres in South Africa. George is a 20 minute drive from the Wilderness.
Highlights:
Wilderness is a quiet coastal resort where many families go every year to stay in a variety of holiday homes close to the water or in the Wilderness National Park. Parents and children love the tranquil seas, beaches and lagoons. There are a number of wonderful viewpoints in the area.
Wilderness is also a favourite for watersports such as water skiing, canoeing, surfing and fishing or adventurous sports like paragliding and abseiling. Hikers and bikers can choose from a range of great trails in the area. Whale and Dolphin watching are popular activities, especially in the second half of the year when Whales visit South African shores.
The Wilderness National Park includes the Touw River estuary and lakes, the Serpentine, Swartvlei and beyond to Goukamma. In the park you can enjoy great outdoor activities, visit the RAMSAR wetlands for bird watching or investigate historic and archaeological sites. You could spot the Knysna Loerie, 5 types of Kingfisher, the Knysna Seahorse and the Pansy Shell while in the park.
Activities:
Birding & Whale watching - Wilderness National Park offers a range of habitats from indigenous forest to sea shore and 3 hides for exciting birding opportunities; Dolphin Point is a great place for Dolphin spotting anytime and Whale watching in season
Hiking & biking - Hikers will find 5 fabulous trails in the Wilderness National Park which explore different facets of the park over varying distances, with the longest taking about 4 hours to complete; mountain bikers can enjoy 2 routes in the park
Canoeing - This relaxing activity explores the Touw River which leads to the Wilderness beach or lagoon. There is also a Canoeing and Hiking Trail which takes about 4 days through the Wilderness National Park
Water skiing & fishing - In the Wilderness National Park you can water ski at Island Lake and Swartvlei; fishing is permitted at a number of places including Leentjiesklip, Kleinkrans, Swartvlei and Gericke's Point
Adventure - paragliding, abseiling and kloofing are all possible in the wilderness area
Climate:
Wilderness experiences a temperate climate with no extremes. You can swim and enjoy warm and sunny days all year round - which is why it is such a sought after destination. Rainfall is spread out over the whole year and falls mainly at night.
The Experience:
Wilderness is great for year round getaways and family holidays. Imagine long beach walks and nature trails, fun in the sun and meals overlooking the sea or lake. More entertainment and glamour can be found in Plettenberg Bay and Knysna.
Wilderness is home to a number of artists and you may see some of their work at craft markets in the area. The Wilderness Village has a few restaurants and shops but a favourite place to have breakfast and purchase all kinds of goodies is the Wild Oats Community Farmers Market on Saturdays in Sedgefield (get there early).
Photographers can get some great pictures of the surroundings from the Kaaimans River Bridge, Dolphin Point, the Map of Africa viewpoint and while walking on the boardwalk near the main beach. Picnic lovers can pack a basket and head for a great site at the Woodville Tree on the 7 Passes Road (R102) in Wilderness Heights - the tree is thought to be 800 years old.
What you need to know:
Every year in March, mountain biking enthusiasts and their supporters come to the Wilderness to take part in the Kingfisher MTB Enduro Race. The village of Hoekwil (just above Wilderness in the forest) is where it all happens.
Wilderness Accommodation:
The Wilderness Beach Hotel is an idyllic holiday destination with a range of resort facilities including a spa. It overlooks the ocean and is located close to the beach.