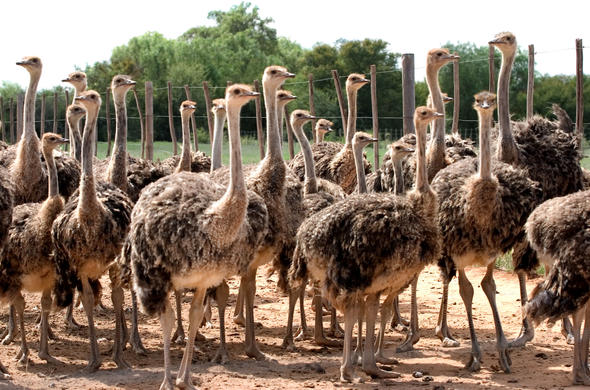 Oudtshoorn is no slouch when it come to tourism, it is the Ostrich capital of the world and the home of the Cango Caves but there is so much more to this vibrant, social hub in the Klein Karoo.
Access
Oudtshoorn is on the edge of the Little Karoo but still linked to George and Mossel Bay on the Garden Route via various excellent roads. George is about an hour away on the N12. Visitors travelling from Cape Town can either take the N1 highway to Worcester and then follow Route 62, or take the N2 highway and turn off at Mossel Bay onto the R328 - these routes take between 4 and 5 hours by car. Oudtshoorn is just over 4 hours from Port Elizabeth.
Airport
The main airport for the Garden Route is in George, which is about an hour's drive away. George is connected by flights to most major centres in South Africa.
Regions
Oudtshoorn is located in the Klein Karoo (or Little Karoo) and situated at the foot of the Swartberg Mountain Range. It is a surrounded by Ostrich farms and just a short drive from the world famous Cango Caves. The town is in a fertile valley but water is scarce in this part of the world so you won't find heavy industry.
There is a great abundance of flora in this region and Oudtshoorn stands next to a unique area where the Succulent Karoo, Cape Thicket and Fynbos biomes intersect with each other. This is a wine growing region and Oudtshoorn forms part of the longest wine route in the world.
Protected wilderness areas include the Swartberg Nature Reserve (World Heritage Site) and the Gamkaberg Nature Reserve (succulent flora). Oustshoorn is very central to top attractions in the Cape including the Great Karoo desert, mountain ranges, floral hotspots, coastal rainforest and superb beaches.
Highlights
Visit the Cango Caves which is the biggest display of its kind in Africa. It's a natural wonder and you will be amazed at the immense caverns and limestone rock formations. You can do a basic tour or take a more extensive look which will involve squeezing and small spaces.
Other Oudtshoorn highlights are stroking a Cheetah, meeting Meerkats and diving with Crocodiles! Ostriches, ostriches everywhere! The world's largest flightless bird which is farmed here is a major attraction - you can tour the facilities and even ride on the back of one.
Discover the environment and fynbos walks at the Swartberg Cape Floral World Heritage Site, and be entertained at a spectacular annual cultural event which has been running with huge success for nearly 20 years.
Activities
Cango Caves - This 20 million year old landmark is a show stopper. Enjoy guided tours of the magnificent caverns on the easy route or the adventure route. Facilities include a restaurant, info desk and auditorium
Ostrich farms - There are about 400 farms in this region of which 3 are top attractions. Enjoy guided tours of the facilities and ostrich rides around an arena
Out and about - Visit the Vrede and Meiringspoort waterfalls, inspect the unusual suspension bridge across the Grobbelaars River or discover the Swartberg and Gamkaberg Nature Reserves
Adventure - You can enjoy quad biking or horse riding and learn how to abseil or even go caving. Take to the skies with hot air ballooning or set off on a camel safari
Wildlife - Diving with Crocodiles...yes, it is possible (similar to shark-cage diving) or if you prefer you can head out on safari and spot some of the Big Five and also go on an Elephant-back ride or bush walk. Get close to a Cheetah at Cheetahland and also see other big cats including Tigers and White Lions. Meet the Meerkats or get out your binoculars and spot lots of birds in different habitats
Biking & hiking - There are lots of trails to choose from and you can head for drier country or go for a lush alternative. One of the most well known is the 5 day Swartberg Trail which is rated difficult, or you can do the Donkey Trail over the Swartberg which is a 2 day hike with donkeys to carry the gear and provisions.
Golf & sports - Oudtshoorn has a modern 18 hole golf course and a range of sporting facilities to rival other bigger centres - 5 Olympic swimming pools, racquet sports, plus many rugby, cricket, soccer, hockey,, netball, athletics, basketball and bowls facilities. It is a top spot for marathons.
Wining & dining - Visit local wine estates and choose from a variety of excellent dining venues in town
History & culture & art - Visit museums, historic buildings, feather palaces and heritage sites or go on an authentic Xhosa Village Tour and taste traditional cuisine. You can also find wonderful art and craft in Oudsthoorn, there are many resident artists
Scenic drives & 4x4 - Route 62, De rust and Meiringspoort, Swartberg Pass, Prince Albert, Calitzdorp plus plenty of 4x4 trails in different types of terrain
Climate
Oudtshoorn has a very healthy climate and clean air. The summers are long and very hot and the winters are short with warm days and cold nights (with snow sometimes on the mountains). In fact winter daytime temperatures are similar to summer temperatures in other countries. Rain falls most of the year with thundershowers in summer and higher averages in the early winter and spring seasons.
The Experience
Oudtshoorn is a bit different to other towns, 100% authentic and a mix of unusual attractions and good old fashioned country charm. Whichever route you drive in on you arrive via a mountain pass. Ostriches, Crocodiles and Cheetahs (which are endangered) are bred here and you can enjoy a malaria free safari.
Shop at the markets in town and get a look at the great architecture and stone masonry in Oudtshoorn. These handsome buildings are fondly called Ostrich Palaces, a term which originated during a prosperous era when Ostrich feathers were all the rage and much sought after in the late 1890's.
Culture is alive and well in Oudtshoorn with the most notable event being the Klein Karoo National Arts Festival. This wonderful event is a showcase for international and local talent with various mediums including dance, music, film, poetry and plays.
Thousands of visitors descend on the town to experience the atmosphere and enjoy fine cuisine and wines from local wines estates. Oudtshoorn is a hub for festivals and events and the town makes the most of all its best features.
Go underground and be amazed or take to the sky in a balloon and get an unforgettable view. Besides local attractions, within an hour's drive you can be exploring indigenous forests and beautiful beaches on the coast or heading for the fascinating Great Karoo.
What You Need to Know
Oudtshoorn has an impressive events calendar which just shows how organised and interesting this town can be - there are 3 annual marathons (including the Kango Marathon in February), mountain biking events (including the Cape Pioneer Trek in October), and a number of cultural events including the Klein Karoo National Arts Festival in March / April and the Klein Karoo Klassique in August. Each event is celebrated with a country fair.
Oudtshoorn Accommodation