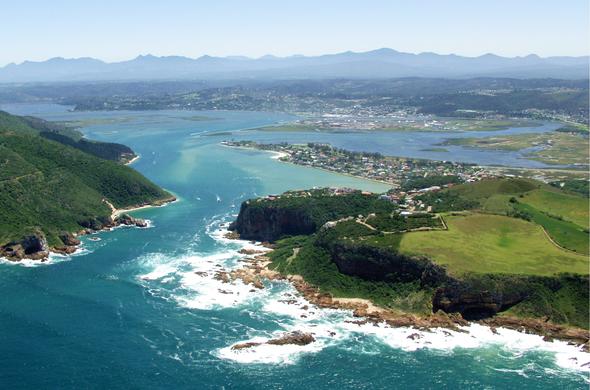 Witness the many gems of the World famous Garden Route with your private Nature Guide.
Places you will visit: This package includes: Mossel Bay and Knysna in the Western Cape; Port Elizabeth in the Eastern Cape in South Africa.
Suitability: For guests looking to enjoy the splendour of the magnificent Garden Route with their own qualified Nature Guide.
Note: This package is based on arrival and departure from Cape Town International in South Africa.
Day 1: Mossel Bay, Western Cape, South Africa
Drive along the coast through Hermanus, to the southern tip of Africa. Hermanus is very well known for Whale watching so make sure not to miss that. Drive through the back roads and enjoy a unique hand drawn river crossing. You get to stay in the coastal town of Mossel Bay.
Day 2: Knysna, Western Cape, South Africa
Drive up through a spectacular pass with beautiful vistas and visit the wildlife sanctuary. Your guide will take you back to the coast through another beautiful pass to the scenic town of Knysna which is situated on the edge of a tidal estuary. You spend the night in Knysna.
Day 3: Knysna, Western Cape South Africa
Enjoy a unique tour across the estuary and then a 4x4 ride to some of the spectacular viewing sites of the famous Knysna Heads. After lunch you can go on a Tree Top Ride in the indigenous forests. Enjoy a walk and touch trip with African Elephant. This is a very unique and wonderful activity. Accommodation will be in a hotel.
Day 4: Port Elizabeth, Eastern Cape, South Africa
Today your guide will take you along the old road which includes some beautiful old passes. You get to visit the Tsitsikamma National Park. Enjoy a walk to the suspension bridge. From there you drive on through the forests past the world famous surfing town of Jeffery's Bay.
From there you will be taken to Port Elizabeth for your onward arrangements. Should you wish for the guide to take you back to Cape Town after the tour, please arrange with your consultant prior to departing.