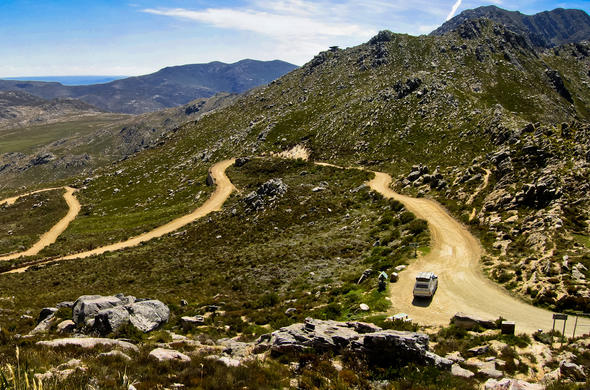 An exclusive experience of the lush and pristine Garden Route and the sprawling and magnificent Karoo.
Places you will visit: This package includes: Sutherland, Northern Cape; Oudtshoorn and Meirings Poort, Western Cape; Patensie, Eastern Cape - South Africa.
Suitability: This is ideal for groups of one to eight people who would like to travel together with luxury and the feeling of being serviced exclusively.
Note: This package is based on arrival and departure from Cape Town International Airport in South Africa.
Day 1: Sutherland, Northern Cape, South Africa
Travel past wine estates through the Hugenot Tunnel into the Karoo. Once there, you can participate in a game drive on a private game reserve. After a light lunch, you head for Sutherland where you get to experience world-class star gazing. You will be hosted in Sutherland for the night on your Garden Route tour package.
Day 2: Oudtshoorn, Western Cape, South Africa
Today you tour the Observatory/S.A.L.T. This telescope is powerful enough to see a candle on the moon. From there you drive on through to the Sewe Weeks Poort to the little Karoo town of Oudtshoorn and overnight at a quiet citrus farm.
Day 3: Meirings Poort, Western Cape, South Africa
Tour the Cango Caves and then drive over the majestic Swartberg Pass through the town of Prince Albert. Then your guide will take you through the awesome town of Meirings Poort and overnight in quaint, luxury ox wagon style accommodation.
Day 4: Patensie, Eastern Cape, South Africa
Today your guide takes you through the Baviaans Kloof to witness the breathtaking views of the endless mountains and kloofs where Kudu and Buffalo roam. You will be hosted in the picturesque village of Patensie.
Day 5: Depart
You will be dropped off in Port Elizabeth before lunch. Of course this Garden Route tour package can be turned the other way around. So you can always arrange to be taken back to Cape Town by arranging with your travel consultant.