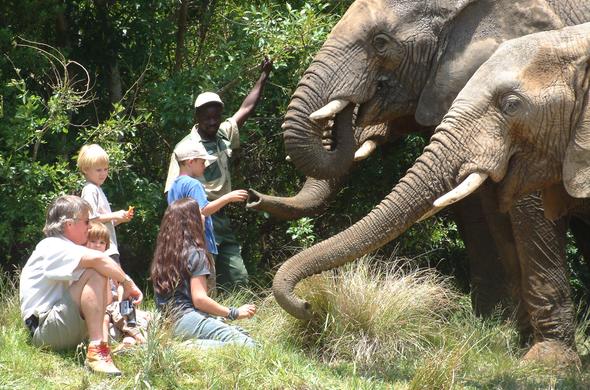 Discover the best of the Garden Route, from the Cape winelands to Elephant interaction and the African bush.
Summary of this Garden Route Tour
Accommodation: Hotel, game lodge
Activities: Wine tasting, golf, spa treatments, game viewing, Elephant interaction
Destinations: Cape Town, Knysna, Plettenberg Bay, Addo National Park, Oudtshoorn
What you can expect of this 12 day Elephant Getaway
The 12 day Elephant Getaway package is ideal for guests on a South African holiday who want to experience the combined splendours of the Cape Winelands, world class golf courses and the wild African bush. Guests looking forward to an Elephant interaction can choose between a 10 or 12 day Garden Route tour package.
Cape Town, South Africa
Guests will begin their Garden Route tour in Cape Town, South Africa. The Cape Winelands have plenty of excellent wine farms to visit. Guests on this Garden Route package can sample some of the excellent local wine. The city of Cape Town allows guests to explore the different cultures and history of the area.
Plettenberg Bay, South Africa
The Garden Route tour then travels to Plettenberg Bay, where guests can enjoy whale watching during season. This area is also ideal for golfing. Guests can play on the famous golf courses of Pezula, Simola, Pinnacle Point, Oubaai, Goosevalley and Fancourt.
For those who seek some relaxation, the spas at these venues provide indulgent treatments, from facials to massages. Guests can also try and spot the most southerly elephant in the Knysna Forest and enjoy interacting with Elephants.
Eastern Cape, South Africa
Guests then make their way to the Eastern Cape for a 5-star malaria free bush experience. Here guests can enjoy a spectacular Elephant interaction. Keep an eye out and spot the Big Five or watch the majestic Elephant herds.
Return
Guests will make their way back to Cape Town through Oudtshoorn, situated in the scenic Great semi-desert Karoo. Guests on this Garden Route package will disembark at the Cape Town International Airport.